HOME
>
Hiking Routes
> Kamakura Alps (Mt.Ohira)
Grade1: Beginner
One Day
Bousou / Miura (房総・三浦)
Kamakura Alps (Mt.Ohira)



Green
Best season for hiking
Light Green
Good season for hiking
Easy hiking trails to enjoy the autumn colors and prospects and historic site. In the city, delicious shop tour can enjoy!
Details about Kamakura Alps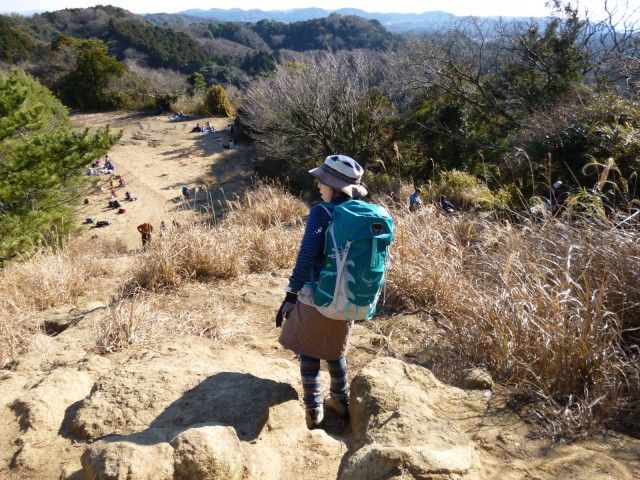 \ Recommend Point /
Easy access from the Tokyo city.
Easy course that even beginners enjoy stroll mood.
Enjoy historic sites and gourmet.
Itinerary
JR Kita Kamakura Station - Kenchoji - Mt.Jyubusen - Mt.Ohirayama - Tenen - Shishimai valley - Kamegabuchi - Tsuruoka Hachimangu - JR Kamakura Station
Plan submission
None.

Lodging
None.

Access
Tokyo
↓ JR Yokosuka Line Rapid train (800Yen/52min)
Kitakamakura

Parking
There are many toll parking lot around the Kita kamakura station.

Advice
Shoes and measures against cold, which may be diatomaceous were accustomed to walk to not forget.
Trying to make no trouble paying attention because there is a case which is also walking tourists.
Note that because of the Shishimai valley easy it is many a slip that is moist.

Sub Courses
Fun walk from Kamakura Station to Inamuragasaki and Enoshima direction.
It would be nice to walk the Great Buddha course return to the north Kamakura.

Escape Route
None.

Recommended
"Engakuji"
National treasure close from the north Kamakura station "stupa" is worth seeing.
http://www.Engakuji.Or.Jp/

"Hiroshikane Bentendo Chaya"
Sweet not punished in the precincts of Engakuji.
http://Tanosii-kamakura.Jp/?Tdate=2016-5-19-228

"Meigetsuin"
"Round window" in the main hall want to visit the time of the autumn leaves.
https://goo.gl/maps/wnKSsd6JcaQ2

"Kamakura-gū"
Known for Shindai and dish throwing of escape from evil.
http://www.Kamakuraguu.Jp/

"Hokokuji"
Bamboo forest is famous quaint temple.
http://www.Houkokuji.Or.Jp/

"Tsuruoka Hachiman Shrine"
Crowded with people to pray for, such as health, work, husband and wife amicably.
https://www.Hachimangu.Or.Jp/

"Iwata coffee"
Hot cake that John Lennon and many celebrities loved is a rarity.
http://Aquadina.Com/kamakura/spot/147/

"Akimoto"
Fresh seafood in a Japanese restaurant is located near a train station is serving.
http://www.Akimoto-kamakura.Com/

"Sabo Kirara"
Young woman on the popular sweet treatment.
https://goo.gl/maps/cTmCChDVEEw


The road from the north Kamakura Station had better out of the east exit because of traffic often.
good side trip to Engakuji.
Engakuji Chaya of precincts rice cake with kinako.
Other also be able Anmitsu or your sweet red-bean soup.
Road leading to Tenen hiking trails from Meigetsuin not from Kenchoji also.
The alias of Meigetsuin's "hydrangea temple".
The main hall of the round window.
World of "Wabisabi".
To see well in the surrounding Taiwan Squirrel.
The original street name in the alien species was endemic species of Taiwan.
Mr. rabbit, which is located around the grounds.
The middle of a prefectural road is trying to note that the car traffic is intense.
Go up the steep stairs while being watched a lot of Tengu.
Until the observatory becomes atmosphere seems mountain trail from here is followed by a short but steep stairs.
Overlooking the rooftops of Kamakura Yuigahama - Zaimokuza.
There is also partially steep place, but you work hard does not last long.
Autumn leaves is beautiful.
Here there is only one public toilet in the Course.
(Tenen)
There is juice and beer, Oden and rice balls and the like.
See the a lot of cat in this course.
If all goes to the right will be down to the Kamegabuchi via the Shishimai valley.
*Shishimai=Lion Dance
Note to slip because it is often feet are wet.
There is a handmade signpost to everywhere.
It Zuisen-ji If you turn to the left.
Kamakura Shinto If all goes the alley to the right direction according to the signpost.
Bamboo forest is beautiful Hokoku temple from the road towards the station.
Hokoku Temple dry landscape garden.
Tsuruoka Hachimangu one of the temple that symbolizes the Kamakura area Shrine.
Crowded with people to pray for, such as health, work, husband and wife amicably.
Has many shops lined on Komachi street.
One of the fun also walk to eat.
Hot cake of Iwata coffee.
It want to eat after the descent.
John Lennon was also a favorite of this cake.
There are a number of local beer in the surrounding area Kamakura.
Throat can moisten the without hesitation if you use the public transportation.
Raw whitebait bowl and Kamakura vegetable tempura of Akimoto.
Sabo Kirara's sticky rice balls with sweetened red bean paste.
I think the value is away from the station to go is enough.
*The above information may change. Please ask local organizations (like government office, hut, etc.) latest information before leave.