HOME
>
Hiking Routes
> Karasawa Autumn leaves Hiking
Grade1: Beginner
Two Days
Yari / Hotaka / Norikura (槍・穂高・乗鞍)
Karasawa Autumn leaves Hiking



Green
Best season for hiking
Light Green
Good season for hiking
A wonderful autumn leaf, one of the best in the Japan.
Details about Karasawa Autumn leaves Hiking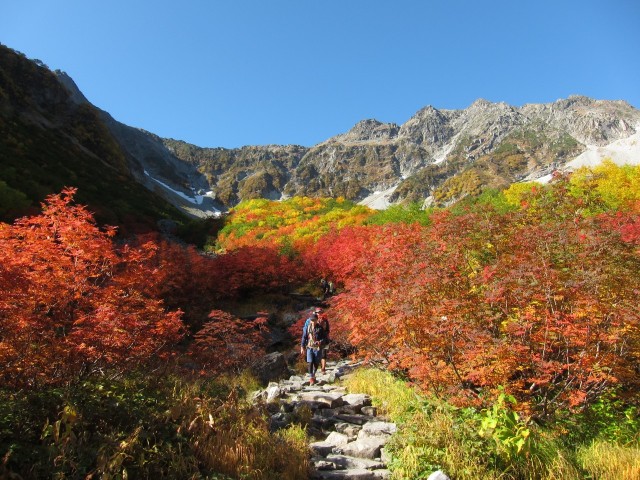 \ Recommend Point /
One of the leading autumnal leaves scenic points in the country.
Nature created glacier valley.
Staying in Karasawa Hutte
Itinerary
Day1: Kamikochi - Myojin - Tokusawa - Yokoo - Hondani Bridge - Karasawa Hutte Day2: Karasawa Hutte - Hondani Bridge - Yokoo - Tokusawa - Myojin - Kamikochi
Plan submission
None.

Lodging
Karasawa Hutte
https://www.karasawa-hyutte.com/
090-9002-2534

Access
Shinjyuku(Tokyo)
↓ JR Chuo Line "Azusa" Super Express.
Matsumoto
↓ Alpico Express Bus
Kamikochi

Parking
There are many toll parking lot around the Sawando.
(It is forbidden to take a car to Kamikochi)

Advice
The peak period of autumnal leaves varies from year to year, but it will be from late September to early October.
It is fun to explore the panorama route in Karl and its surroundings by staying 2 days in a lavishly.
The panoramic course which goes through the screens of the folding screens to the Tokusawa from the dusky is dangerous except for advanced players.

Sub Courses
None.

Escape Route
None.

Mt.Maehotaka and east wall.
Mt.Haehodaka and east wall.
If you want a good place, try to arrive early.
"Do not talk about Hotaka without looking at the leaves of lavish"
Night view of the tent.
*The above information may change. Please ask local organizations (like government office, hut, etc.) latest information before leave.